Obsidian's Grounded Will Have a Mode For Arachnophobic Players
Obsidian Entertainment's new game Grounded puts players into the shoes of a child who is shrunken down and placed into the backyard full of peril. Going by the story trailer, spiders played a huge role of the upcoming survival adventure game. This put off players who were eager to play the game but were deathly afraid of spiders. But Obsidian went to Twitter to assuage players who were afraid of spiders that they were implementing an "arachnophobia mode."
Good news for you, @TheRealKoding – the @GroundedTheGame team is implementing an arachnophobia mode to help with those who aren't fans of spiders and still want to enjoy the game! https://t.co/uhlnk4QBs4

— Obsidian (@Obsidian) April 8, 2020
It is not clear what this mode will entail and what it will be implemented. Though they may just remove the eight-legged monstrosities all together. Speaking with Kotaku, director Adam Brennecke mentioned the game would have a delicate and  complex ecosystem where players can weaken or even wipe out an entire species.
"You can go through and wipe out an ant colony," director Adam Brennecke told Kotaku. "Each ant colony is its own AI system, which is cool. Each ant colony will send out ants to food sources, and they communicate with each other through pheromones. But they're each on their own faction or team. So some ant colonies can rise to dominance and some will die out."
The Outer World's developer first announced the project at Microsoft's XO conference in London, and will be their first outing under the Microsoft Games Studio umbrella. Grounded will be releasing in Spring 2020 for Xbox One and PC (as well as a part of Xbox Game Pass). The four-player survival game will take place entirely in the backyard as players take the role of child shrunken down to the size of an ant by a science experiment, akin to the 80's classic movie, Honey I Shrunk The Kids. Players will have to survive against ants and other insects that are roughly their size as they craft items and build bases from everyday items.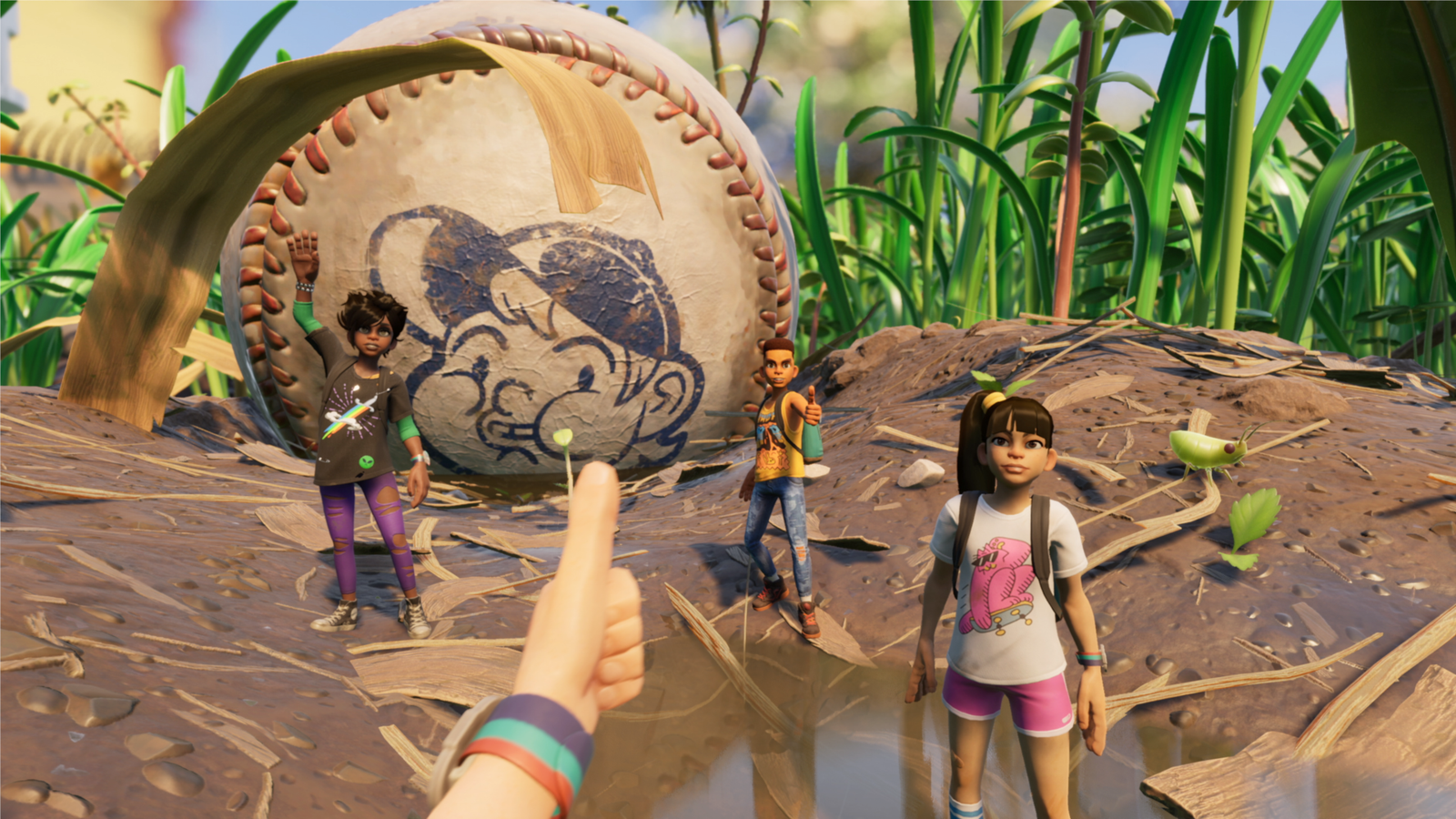 This is a great departure from their usual narrative-heavy RPGs such as Fallout: New Vegas, The Outer Worlds, and Pillars of Eternity. Obsidian has mentioned alongside the four-person multiplayer there will be a single-player campaign. Grounded will be available for Steam Early Access and Xbox Game Pass on July 28.
Games on Steam: Ancient Mysteries
Games on Steam is a weekly installment that tackles the latest and greatest Indie games on this popular platform. Today, we talk about frustrated toys, futuristic racer, awe-inspiring ancient worlds, and one chill monster.
A Monster's Expedition
To start, we have a relaxing puzzle adventure that puts you in the role of a cute monster eager to learn more about the mythical human race. The game comes from Draknek, a studio that made Cosmic Express and A Good Snowman is Hard to Build. Similarly, A Monster's Expedition also features smart puzzles that revolve around pushing trees and creating pathways to reach new islands. Furthermore, the game is absolutely huge, and can easily glue you in for hours on end.
Angry Toys
You came to your grandmother's house for a visit. In it, you find your childhood toys, although they are not as innocent as they once seemed. Unfortunately, they become erratic at night, and you will have to monitor them through toy cameras to keep a safe distance. This is a basic premise of Angry Toys, a horror game with a vibe that's very similar to 5 Nights at Freddy's. If you are a fan of survival games that rely on jump scares and creepy toys, you can't go wrong with this one.
Inertial Drift
Inertial Drift is not your typical arcade racer. For one, developers decided to completely reimagine the usual mechanics by bringing in twin-stick control mechanics. It's fairly easy to pick up, but mastering it will prove to be challenging. Especially considering each car handles differently. Inertial Drift also has a distinct, retro/comic visual style that looks very cool. If you are at all interested in cars, you won't be disappointed with this baby.
Omno: Prologue
Next, we have a prologue of a promising upcoming adventure. Omno is a vivid ancient world full of mystery. You will explore it as a small kid, and on your way, you will befriend strange creatures and solve various puzzles. Although it is fairly short, Omno immersed me immediately and it's has a great potential.
Fantasy of Expedition
Lastly, here's an action-adventure roguelike Indie called Fantasy Expedition. In it, you are ordered from Heavens to go on an important expedition. To survive, you will have to carefully build a powerful army by combining the unique skills of each follower. Also, the game lets you decide if you want to micromanage your army or let AI take care of everything, which is cool. All in all, Fantasy of Expedition mashes elements of Slay the Spire and auto chess successfully and can easily be enjoyed.
Games on Steam is out every week. Previous edition featured a badass murder mystery you don't want to miss.
League of Legends: Details of Patch Notes 10.19
League of Legends (LoL) receives champion Samira. The game had the official Patch Notes 10.19 released by Riot Games. The update is of great importance to the esports scene, as it will be used in the 2020 LoL World Championship. The highlight was the confirmation of the newest shooter Samira. It is scheduled for release on September 21, 2020 along with its secondary PsyOps skin. As well as the already video standards demonstrating the operation of each one of them in LoL. Next, check out more details about the new champion.
Samira's skills
So far, Samira's skills had been shown quite superficially in her official trailer. With the skills summary, you can now get a better sense of your potential in Summoner's Rift. Below, check out the passive and skills that the new shooter has:
Passive – Audacious Boost
Sequential and unrepeated skills increase Samira's Style score by one letter, ranging from 'E' to 'S'. Each Style score grants her additional Movement Speed. Samira can deal damage from a distance with his pistols or melee with his sword. The sword deals additional magic damage. In addition, the champion can toss enemies whose movements have been weakened by her allies into the air, prolonging the displacement effect.
Natural Talent (Q)
Samira fires directly with his pistols at a distant enemy. Opponents within melee range take a sword strike instead of a shot.
Sharp Maelstrom (W)
Samira spins the sword around her, dealing damage twice to nearby enemies, in addition to destroying opposing projectiles that are within the area and that enter the area during the skill.
Indomitable Momentum (E)
Samira advances and cuts through enemies (and allies) dealing magic damage and gaining additional Attack Speed for a period. Eliminating enemy champions resets the cooldown of the ability.
Infernal Trigger (R)
Samira fires a volley of shots, hitting all surrounding enemies ten times over the duration. Each shot deals Physical Damage, applies Life Theft and can cause Critical Strike. She can only cast the ability if her Style score is 'S' (maximum).
Samira PsyOps
Riot Games says the new PsyOps-themed skins will be released in this update. While Kayle, Zed, Pyke and Viktor received their PsyOps skins this Thursday (17th). Along with the LeBlanc Championship skin, Samira wins the skin on its launch, on September 21, this being its secondary skin. It is a military style outfit with several futuristic and technological elements. The other champions who already own their PsyOps outfits are Ezreal, Sona, Shen, Vi and Master Yi.
All changes to Patch Notes 10.19
Ahri: Fox Fire (W) mana cost and cooldown reduced. Mana cost was fixed from 55 to 40 and the cooldown went from 10/9/8/7/6 to 9/8/7/6/5 seconds.
Akali: Base damage and multiplier of Five Point Strike (Q) ability power reduced. The ability now causes 30/55/80/105/130 (+0.6 ability power) and no longer 35/60/85/110/135 (+0.65 ability power).
Aphelios: Base attack damage growth increased from 2 to 2.4.
Azir: Surja's (W) additional attack speed reduced from 20/30/40/50/60% to 15/25/35/45/55%.
Caitlyn: Base attack damage and reduced attack speed growth. Base damage went from 64 to 62 and the attack speed increased from 4% to 3.5%.
Irelia: Base damage to the dam and the perimeter of the Vanguard Blade (R) increased in the last levels – both went from 125/225/325 to 125/250/375.
Ivern: Sluggish Seed (E) increased from 40/45/50/55/60% to 50/55/60/65/70%.
Lucian: Base attack damage growth reduced from 2.75 to 2.3.
Senna: Chance of appearance of Specters of the Mist (passive) reduced in troop kills – 8.33% in troops that Senna kills (approximately once every 2 waves) to 4.166% in troops that Senna kills (approximately once every 4 waves).
Sivir: Lightfoot (passive) additional movement speed increased from 30 – 50 to 35 – 55 (levels 1 to 18).
Sylas: Usurpar (R) cooldown reduced at last levels. The skill has now gone from 100/80 / 60s to 100/70 / 40s.
Twisted Fate: Base movement speed reduced from 335 to 330.
Udyr: Phoenix Posture cone-shaped damage (R) increased from 50/95/140/185/230/275 (+0.6 ability power) to 60/110/160/210/260/310 ( +0.7 ability power).
Vayne: Increased Final Hour (R) attack damage increased from 25/40/55 to 35/50/65.
League of Legends: 10 Players Who Will Be Missed at Worlds 2020
Faker, Uzi, Rookie and other big names in the League of Legends scene will not be present at Worlds 2020. This is the main event on the Riot Games calendar. The championship, which this year will take place in a bubble system due to the coronavirus pandemic. You will surely miss several names that ended up being left behind, either because they did not qualify, for retirement, bad time, among other cases.
Faker (T1)
After lifting the Worlds trophy for the last time in 2016, Faker will once again not compete in the world championship. The only time he was out was in 2018, one of T1's darkest years. After the redesign, the team reached the semifinals of the event in 2019, but did not go beyond.
Teddy (T1)
Even with an unstable T1 year, Teddy is still one of the best snipers in the world and will be missed at Worlds of League of Legends.. Despite the team not having a good time, Faker's teammate managed to make some good presentations during the last two stages of LCK, including one of the highlights of the 1st Split, when T1 lifted the trophy.
Doinb (FunPlus Phoenix)
Current champion of the world, the FunPlus Phoenix team failed to qualify for the Worlds in 2020 of League of Legends. Consequently, it will be a year without Doinb in the middle route. One of the highlights of last year, the player and his teammates had a lower than expected performance in the LPL this year and in the last Split they fell to V5 by 3 to 1 in the first bracket.
Rookie (Invictus Gaming)
Rookie is, without a doubt, one of the best players in the world. However, the year was not the best for Invictus Gaming. Although it was decisive at various times in the LPL, the medium was not able to "load" the team. Not being able to change the unstable scenario in time to get the spot for Worlds of League of Legends. The IG ended up eliminated after the 3-0 against LGD in the quarterfinals of the Chinese league and lost the chance to qualify.
TheShy (Invictus Gaming)
TheShy's exotic choices on the top route will not be present at Worlds 2020. Like Rookie, the player failed to qualify and fell behind after a season of underperforming personal performance.
Uzi (Retired)
Uzi's retirement was one of the most memorable moments of the League of Legends in 2020. The sniper arrived as one of the big names for the title in all editions of the tournament he played in, but unfortunately he couldn't keep up until, in fact, lifting the trophy of the championship.
Blaber (Cloud9)