Valve's flagship Half-Life VR Game Releases Early 2020
Developers Valve shocked the gaming industry by announcing the latest installment in the long-dormant Half-Life series. Half-Life: Alyx is set to be released in March 2020 and will be the series' first virtual reality exclusive title. It will be released via Steam and will be compatible with all PC-Based VR headsets including the HTC Vive, Oculus Rift and Valve's proprietary headset, Valve Index.
Half-Life: Alyx will be a full-length campaign taking place after the Combine invasion of Half-Life 1 and before the return of Gordon Freeman in Half-Life 2. Players will take control of Alyx Vance, the supporting character of Half-Life 2, as she and her father, Eli, mount up a resistance against the invading Combine forces and their brutal occupation of Earth.
VR was built for the kind of gameplay that sits at the heart of Half-Life, and Half-Life: Alyx was built from the ground up for VR. You'll be able to play it on any SteamVR compatible system.

Learn more about our VR compatibility and play styles: https://t.co/n1Ow10wBL8 pic.twitter.com/3K3dPMpnn7

— Valve (@valvesoftware) November 21, 2019
"Everyone at Valve is excited to be returning to the world of Half-Life", says Valve founder Gabe Newell to The Verge. "VR has energized us. We've invested a lot of ourselves in the technology. But we're also game developers at heart, and to be devoting ourselves to a VR game this ambitious is just as exciting. For that to come in the form of Half-Life feels like the culmination of a lot of things we care a lot about: truly great games, cutting edge technology, and open platforms. We can't wait for people to experience this."
Half-Life: Alyx will have the hallmarks of the classic Half-Life series that players fell in love with two decades ago: platforming, world exploration, visceral combat and a gripping narrative interwoven within the iconic Half-Life Universe. Alyx will also be armed with gravity gloves that will help grab things that would otherwise be out of reach. Half-Life: Alyx was built from the ground up for VR on Valve's Source 2 engine. Players will be able to choose from three different types of setup, whether they want to move around the room, stand in one place or sit down.
Valve is better known these days as the titan retail platform as well as for its Esports titles such as Counter-Strike: GO and DOTA 2. Its initial rise to prominence was through the Half-Life series with the last game, Half-Life 2: Episode 2, released in 2007. Since then, there was constant speculation and anticipation of an installment that would pick up where Episode 2 left off. The idea of the release of Half-Life 3 had become a meme among hopeful fans. The final nail in the coffin was the leak of a script by former Valve writer, Marc Laidlaw, that may have been the planned plot for Half-Life 3. The release of Half-Life: Alyx has reignited the hopes of many fans to get proper closure for the series.
Half-Life: Alyx is currently available for pre-purchase on Steam for $59.99 and owners of the Valve Index VR headset will get it for free.
EA Motive Shows First Look at New Space-Combat Game Star Wars: Squadrons
Following the heels of the successful take of Respawn Entertainment's Star Wars: The Fallen Order, EA Motive has given the first look at their new first-person space-combat game, Star Wars: Squadrons. The game is set to have a full single-player campaign as well as multiplayer modes. The biggest feature of the game is including crossplay across platforms, Motive have stated they would including cross-play between VR and non-VR players.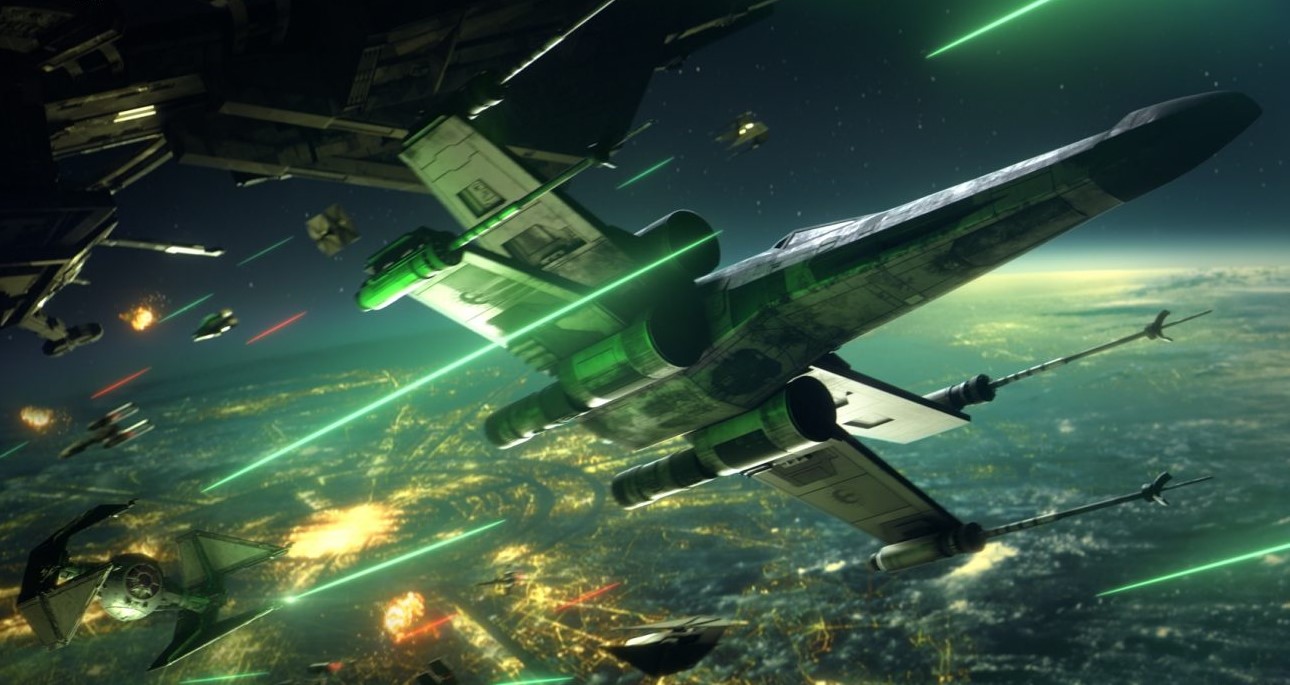 The single-player campaign is going to have players on both sides of the conflict, playing both Republic and the Empire pilots throughout the course of the campaign.  Regarding where in the Star Wars Saga this game will be taking place, it is set to take place between Star Wars: Return of The Jedi and Star Wars: The Force Awakens. The studio has promised fans that they will interact with familiar characters from the franchise.
Squadrons will include two multiplayer modes that have been announced so far: Dogfight and Fleet Battle. Dogfight is the traditional Team Deathmatch Mode where players fight 5v5 choosing either to play Republic or Empire. Fleet Battles, which the studio dubs the game's "signature mode," is an objective-based gametype that starts with a dogfight scenario. The victor takes the offensive in the next stage. The winner of the dogfight stage advances and then need to take down two medium-sized capital ships. If they win that stage, the final objective is to take down the opposing team's massive flagship.
At the time of writing, Motive have announced six locations from across the Star Wars Universe for the game:
Yavin Prime, the base planet near the rebellion base on Yavin 4, a gas-giant planet that hosts a large Republic presence.
Esseles, Imperial planet with an icy ring that's home to a listening post the Empire uses to spy on the Republic.
Nadiri Dockyards, a starship manufacturing facility the Republic defends at all costs from Empire attacks.
Sissubo, this planet is surrounded by the destroyed remnants of salvaged Imperial ships, parts of Project Starhawk, and is very risky to fly through from all the debris.
Galitan, a remote moon that was pulled apart into molten fragments floating throughout open space.
Zavian Abyss, a hazardous space region filled with electrically-charged asteroids from a surrounding maelstrom.
During an interview with Polygon, Creative Director Ian Frazier, wanted to make it clear that the game would not be a VR port but would be built from the ground up with VR in mind."We started the game, and we had the initial prototype up and running very quickly," Frazier said. "Much faster than normal. We were very pleased with that. We got it running in a week. And we had it running in VR by the end of the second week. So this game is like, really, really, really, from the ground up, both 2D and VR. And why? I mean, you kind of hit the nail on the head there. From a business standpoint, talking about how do we 'optimize the amount of money this game is gonna make,' VR doesn't make sense. It's a much smaller audience than the broader market. But why are we doing it? It's because we think it's cool."
Star Wars: Squadrons will be released on October 2nd, 2020 for the PC, Xbox One, and PS4 as well as have VR Support for the Oculus Rift, HTC Vive, Valve Index, and PSVR.
Wraith The Oblivion- Afterlife Brings The World of Darkness Universe to VR
The World of Darkness universe is ever-expanding into the video game space as Fast Travel Games, the Swedish studio behind Apex Construct and Budget Cuts 2 will be a horror game based on the tabletop RPG. Their next big VR project, Wraith The Oblivion- Afterlife will be a VR adaptation of the tabletop game of the very same name.
Similar to the 90s tabletop version, Afterlife will have players take the role of a recently deceased person as they explore the Barclay Mansion, unraveling the many mysteries that await beyond the Shroud.
"I am a massive fan of games like Amnesia: The Dark Descent and Alien: Isolation, and have always felt that the kind of narrative-driven, exploration-focused horror these titles deliver would be perfect for VR," said Fast Travel Games' Erik Odeldahl. "To make such a game in the World of Darkness setting, specifically the rich and mystical world of Wraith: The Oblivion, is really a dream come true for me." There has been no release date announced yet but Fast Travel says that Wraith The Oblivion- Afterlife is slated to arrive on all major VR platforms. A gameplay trailer and further details are expected to come during the Gamescom Now on August 27th.
White Wolf Publishing's World of Darkness is a dark fantasy universe set in contemporary times. The critically acclaimed Vampire the Masquerade – Bloodlines, developed by the now-defunct Troika Games, is finally getting a sequel in the same WOD universe. Bloodlines 2 is a first-person RPG taking place in modern-day Seattle where players will take the role of a thinblood vampire with weak vampiric abilities that has been recently turned.
Bloodlines 2 will be releasing on PS4, Xbox One, and PC, as well as the next gen PS5 and Xbox Series X. Bloodlines 2 was initially expected to release on March 2020 but was delayed to an unspecified 2020 release date.
In addition to Afterlife and Bloodline 2, another game based in the WOD universe, Werewolf The Apocalypse – Earthblood, an Action RPG, was announced. The game follows Cahal, an eco-terrorist werewolf who has been banished by his werewolf tribe, on his war against Pentex, a corporation destroying nature and threatening the existence of the Garou werewolf clan. Werewolf The Apocalypse – Earthblood will be releasing on PC, PS4, and Xbox One somewhere in Q2/Q3 2020.
Baobab Studios to Unveil Next Immersive VR Experience Baba Yaga
Baobab Studios, the developers of multiple VR immersive experience such as Asteriods! and Crow: The Legend, has revealed the next project, Baba Yaga. They will be unveiling the first look at the 2020 Annecy International Animation Festival Online edition in June.
Baba Yaga will be a contemporary take of the Eastern European folklore using a 2D pop-up style, hand-drawn animation, and stop-motion. The audience will be taking the role of the main character whose mother is the village chief that has fallen deathly ill. With the help of their sister Magda, they seek the help of the witch Baba Yaga for a cure. Baba Yaga can be a force of good or evil and it is based on the choices of the audience how the story ends up. In a statement. Baobab Studio says "Baba Yaga blends theater, cinema, and animation into a unique experience that explores themes of empowerment and environmentalism."
Join Baobab Studios as we take you on a never before seen journey, starring YOU! Immerse yourself in the enchanting production of "Baba Yaga," the upcoming virtual-reality experience from the 6-time Emmy winning studio. We will be unveiling a sneak peak at the @annecyfestival! pic.twitter.com/X1VTLSo32d

— baobab studios (@baobabstudios) June 4, 2020
Due to the current ongoing pandemic of COVID-19,  Annecy will be taking part in an online format. The registered festival viewer will be able to get the first look of Baba Yaga in the Work In Progress sessions starting on 15 June and will available all throughout the two-week event.
The session will feature co-founders Maureen Fan (CEO), Eric Darnell (CCO), and Larry Cutler (CTO) as well as other team members. They'll be discussing past projects, the studio's philosophy, their approach to interactive filmmaking, and of course a sneak peek at Baba Yaga. A live Q&A with the Baobab Studios team will also take place on June 23rd.
The 6 time Emmy Award Winning Studio's previous and fifth project, Bonfire, had premiered at the 2019 Tribeca Film Festival. Starring actress, writer, and comedienne Ali Wong, Bonfire has the audience on the search of a planet that is inhabitable by humanity, finding themselves crash-landed their spaceship on a strange planet where they only have limited supply of nourishment, a fading bonfire, and a surly robot sidekick. Bonfire is available for download on Steam, Oculus Rift and Quest, HTC Vive, and PSVR.
Baobab Studios have stated that they will be releasing Baba Yaga on multiple platforms later this year.