Most Anticipated VR Games of 2020
Every year with the VR platform evolving, we are seeing more studios join the community to launch their new IPs. There was a stellar collection of VR games in 2019 and it seems as though 2020 is already shaping up to be a pretty significant year in VR gaming too. We put together the top titles that have been confirmed for release in 2020, which includes everything from indies to  'AAA' titles coming to the VR platforms.
Half-Life: Alyx
To say that Half-Life: Alyx has been widely anticipated would be an understatement. It is directly responsible for massive selling out of Valve's proprietor VR hardware, Valve Index. Half-Life: Alyx puts players in the shoes of Alyx Vance, a supporting character to series protagonist Gordon Freeman. Set before the events of Half-Life 2, Players will have to lead a revolution against the invading Combine forces. This will be the first game in Half-Life series in decades and Valve sets to make its mark in VR gaming.
Half-Life: Alyx releases on March 2020 for SteamVR
Lone Echo II
Initially announced for a 2019 release, developers Ready at Dawn had confirmed the sequel to the 2017 smash hit Lone Echo for Q1 2020. Players will be able to embark on another gripping narrative with Captain Olivia and her robot companion Jack.  The original, an Oculus Rift exclusive, had set a benchmark on the gameplay design and visuals of VR experience. The sequel is said to be 50% larger in scale than its predecessor, promising new improvements to the original games already stellar zero-g locomotion, combat, and VR interactions.
Lone Echo II releases on Q1 2020 for Oculus Rift/RiftS
The Walking Dead: Saints & Sinners
AMC's The Walking Dead has become a modern-day cultural phenomenon. Based on the TV series, Skybound Interactive's new survival VR RPG takes place three years after the initial outbreak. It is set to be an open-world environment with a backdrop of a post-apocalyptic New Orleans, where players will have to fight threats from humans and undead alike. Skybound stated to implement a VR system that will make for visceral and brutal combat in the player's bid for survival. The game will have a choose-your-own-adventure campaign with a complex dialogue system and reputation system that will result in a branching narrative.
The Walking Dead: Saints & Sinners releases on January 23rd, 2020 for Oculus Rift/RiftS/Quest and SteamVR
Medal of Honor: Above and Beyond
This will be Respawn Entertainment's first attempt at a VR title. Their recent success with the critically acclaimed Titanfall 2, Apex: Legends and Star Wars: The Fallen Order has put high expectations on the new installment in Medal of Honor franchise. Players will be transported to Europe amidst World War II where they will take control of an Allied OSS agent assisting the French Resistance. Across a wartorn landscape, they will be sabotaging Nazi bases, subverting enemy plans and much more in a deep single-player campaign taking place on land, sea, and air. Respawn has also mentioned the implementation of a multiplayer mode where players will be able to duke it out with historically accurate weaponry.
Medal of Honor: Above and Beyond releases in 2020 for Oculus Rift/RiftS.
Iron Man VR
Marvel's Iron Man VR will have players take up the mantle of fan-favorite Tony Stark and his iconic Iron Man suit. As the Armored Avenger, players will fly across the sky using two PS Move controllers acting as Iron Man's Repulsor Jets and face off foes using the wide array of Iron Man's arsenal. This was first shown in the SIE State of Play and is set to be one of PSVR's biggest exclusives. The trailer, shown from POV of Stark, had introduced us to Stark's trusted AI companion, Friday and a masked villain. There may be a chance that players will get to meet other familiar characters of the Marvel Universe.
Iron Man VR releases on Feb 28th, 2020 for PSVR
LOW-FI
LOW-FI takes players in a Cyberpunk VR open-world where they take the role of a police officer recently transferred into crime-infested City Block 303. They will have the choice of upholding law and order by patrolling the streets, solving crimes and keeping the peace or succumb to the dark side of the city by giving into corruption, taking bribes and framing citizens. Developers IRIS VR, responsible for indie title Technolust, had announced LOW-FI via its Kickstarter page requesting a $60,000 CAD fund goal. The campaign had raised over $100,000 CAD within 4 days.
LOW-FI releases in Q4 2020 on SteamVR, Oculus Rift/RiftS, Windows MR
Budget Cuts For PSVR Delayed Again For September
Neat Corporation, the studio behind the VR stealth action game originally aimed to release the PSVR version of Budget Cuts in May. Due to the global pandemic, Budget Cuts had to be delayed to July 1oth. Days before this expected release date, the studio announced that the new definite launch date has been set for September 25th.
In Budget Cuts, players take the role of an office worker going through the motions in a never-ending office complex. Incoming fax warns them of their impending doom as all the human have been replaced by worker drones. Armed with throwing knives and a teleporter gun, players have to stealth around the offices avoiding the security bots and figure out what has been going on.
Neat Corp had a few hurdles to port this two-year-old PC VR game to PSVR. Firstly, making the physics-based stealth game in shape for the decreased graphical and CPU power of the PS4. Another hurdle to jump over will invariably be the PS Camera's smaller, front-facing tracking volume that will no doubt require users to make heavy use of snap-turning locomotion in addition to the game's native teleportation scheme.
Despite the news of the delay, Neat Corp also has good news that there will be an additional new level called the Panopticon to this PSVR version. In this new radial level, players have a clear goal to achieve but can take whatever approach they choose. "We wanted to encourage the player to pave their own path forward, either through brute force and action or through stealth and sneaking their way around in order to reach the center of the level," said designer Olle Axelsson in a post on the Playstation Blog.
There are still no words whether the sequel Budget Cuts 2: Mission Insolvency which release last December will be getting a PSVR port as well. Neither is there any clues to whether there will be a Quest port.
EA Motive Shows First Look at New Space-Combat Game Star Wars: Squadrons
Following the heels of the successful take of Respawn Entertainment's Star Wars: The Fallen Order, EA Motive has given the first look at their new first-person space-combat game, Star Wars: Squadrons. The game is set to have a full single-player campaign as well as multiplayer modes. The biggest feature of the game is including crossplay across platforms, Motive have stated they would including cross-play between VR and non-VR players.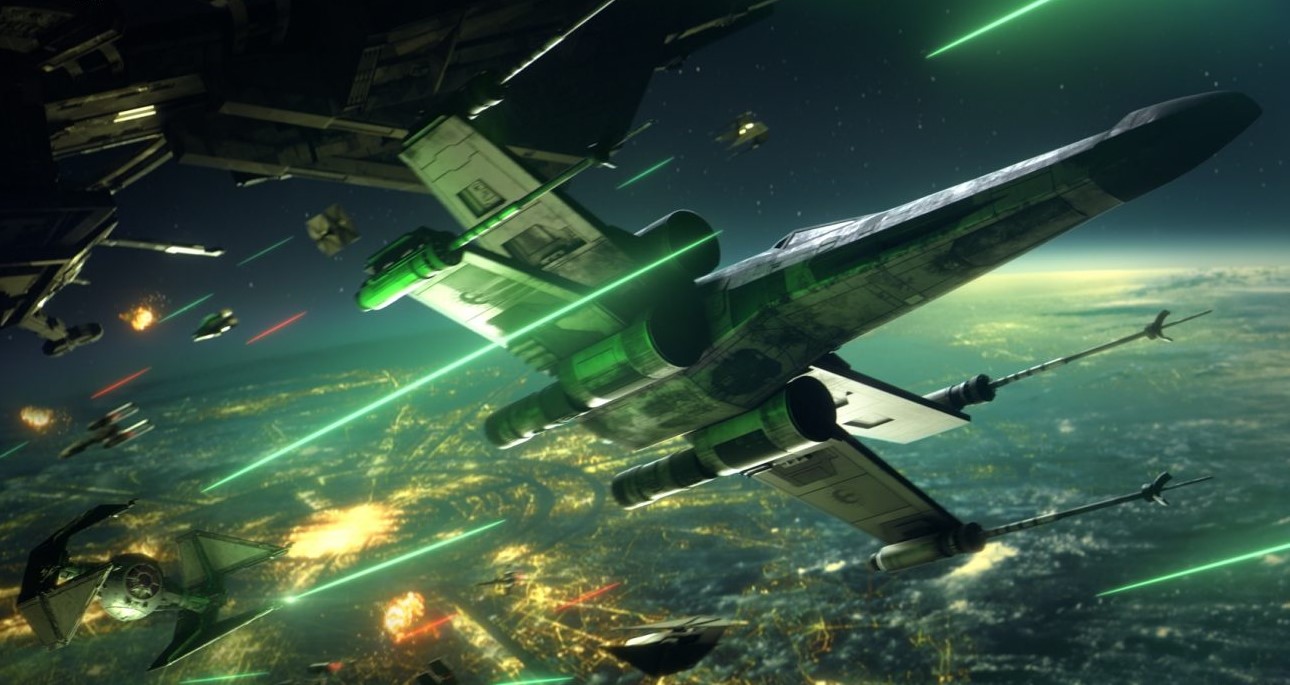 The single-player campaign is going to have players on both sides of the conflict, playing both Republic and the Empire pilots throughout the course of the campaign.  Regarding where in the Star Wars Saga this game will be taking place, it is set to take place between Star Wars: Return of The Jedi and Star Wars: The Force Awakens. The studio has promised fans that they will interact with familiar characters from the franchise.
Squadrons will include two multiplayer modes that have been announced so far: Dogfight and Fleet Battle. Dogfight is the traditional Team Deathmatch Mode where players fight 5v5 choosing either to play Republic or Empire. Fleet Battles, which the studio dubs the game's "signature mode," is an objective-based gametype that starts with a dogfight scenario. The victor takes the offensive in the next stage. The winner of the dogfight stage advances and then need to take down two medium-sized capital ships. If they win that stage, the final objective is to take down the opposing team's massive flagship.
At the time of writing, Motive have announced six locations from across the Star Wars Universe for the game:
Yavin Prime, the base planet near the rebellion base on Yavin 4, a gas-giant planet that hosts a large Republic presence.
Esseles, Imperial planet with an icy ring that's home to a listening post the Empire uses to spy on the Republic.
Nadiri Dockyards, a starship manufacturing facility the Republic defends at all costs from Empire attacks.
Sissubo, this planet is surrounded by the destroyed remnants of salvaged Imperial ships, parts of Project Starhawk, and is very risky to fly through from all the debris.
Galitan, a remote moon that was pulled apart into molten fragments floating throughout open space.
Zavian Abyss, a hazardous space region filled with electrically-charged asteroids from a surrounding maelstrom.
During an interview with Polygon, Creative Director Ian Frazier, wanted to make it clear that the game would not be a VR port but would be built from the ground up with VR in mind."We started the game, and we had the initial prototype up and running very quickly," Frazier said. "Much faster than normal. We were very pleased with that. We got it running in a week. And we had it running in VR by the end of the second week. So this game is like, really, really, really, from the ground up, both 2D and VR. And why? I mean, you kind of hit the nail on the head there. From a business standpoint, talking about how do we 'optimize the amount of money this game is gonna make,' VR doesn't make sense. It's a much smaller audience than the broader market. But why are we doing it? It's because we think it's cool."
Star Wars: Squadrons will be released on October 2nd, 2020 for the PC, Xbox One, and PS4 as well as have VR Support for the Oculus Rift, HTC Vive, Valve Index, and PSVR.
Wraith The Oblivion- Afterlife Brings The World of Darkness Universe to VR
The World of Darkness universe is ever-expanding into the video game space as Fast Travel Games, the Swedish studio behind Apex Construct and Budget Cuts 2 will be a horror game based on the tabletop RPG. Their next big VR project, Wraith The Oblivion- Afterlife will be a VR adaptation of the tabletop game of the very same name.
Similar to the 90s tabletop version, Afterlife will have players take the role of a recently deceased person as they explore the Barclay Mansion, unraveling the many mysteries that await beyond the Shroud.
"I am a massive fan of games like Amnesia: The Dark Descent and Alien: Isolation, and have always felt that the kind of narrative-driven, exploration-focused horror these titles deliver would be perfect for VR," said Fast Travel Games' Erik Odeldahl. "To make such a game in the World of Darkness setting, specifically the rich and mystical world of Wraith: The Oblivion, is really a dream come true for me." There has been no release date announced yet but Fast Travel says that Wraith The Oblivion- Afterlife is slated to arrive on all major VR platforms. A gameplay trailer and further details are expected to come during the Gamescom Now on August 27th.
White Wolf Publishing's World of Darkness is a dark fantasy universe set in contemporary times. The critically acclaimed Vampire the Masquerade – Bloodlines, developed by the now-defunct Troika Games, is finally getting a sequel in the same WOD universe. Bloodlines 2 is a first-person RPG taking place in modern-day Seattle where players will take the role of a thinblood vampire with weak vampiric abilities that has been recently turned.
Bloodlines 2 will be releasing on PS4, Xbox One, and PC, as well as the next gen PS5 and Xbox Series X. Bloodlines 2 was initially expected to release on March 2020 but was delayed to an unspecified 2020 release date.
In addition to Afterlife and Bloodline 2, another game based in the WOD universe, Werewolf The Apocalypse – Earthblood, an Action RPG, was announced. The game follows Cahal, an eco-terrorist werewolf who has been banished by his werewolf tribe, on his war against Pentex, a corporation destroying nature and threatening the existence of the Garou werewolf clan. Werewolf The Apocalypse – Earthblood will be releasing on PC, PS4, and Xbox One somewhere in Q2/Q3 2020.