Jurassic World: Aftermath Brings First-Person Dino Horror To VR
Fans of the beloved Jurassic Park franchise can rejoice at the new VR horror game Jurassic World: Aftermath. Announced earlier in the year, Aftermath has players deal with the events after the incident of Jurassic World and must come face to face with the dinosaurs in virtual reality.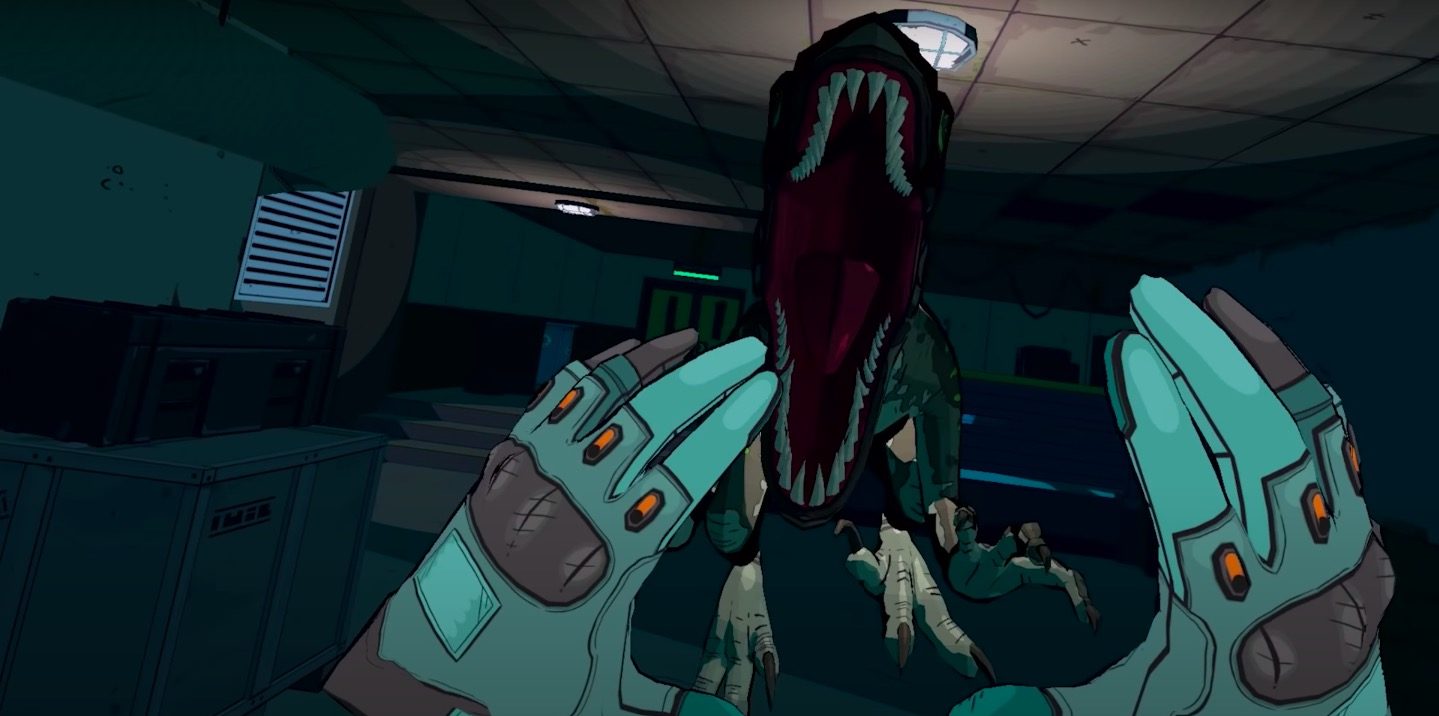 The game takes place between the first Jurassic World movie and its sequel, Jurassic World: Fallen Kingdom. Players will take the role of Sam, a security expert and professional smuggler, tasked with finding recovering vital documents containing information after crash landing into Isla Nebular. During this full-length campaign, players will have to avoid the deadly Velociraptors, Dilophosaurus and Pteranodons unwittingly set loose during the island's evacuation. To survive, players will have to explore the winding hallways of the abandoned facility, solve puzzles and outsmart the dinosaurs hunting them down.
Brian Gomez, executive producer for Universal Games spoke to Mashable saying the team "wanted it to still be scary and affecting and immersive, even if it wasn't filmic — like photo-realism. But we also didn't want it to be so intimidating and so scary [for] a huge portion of the Jurassic audience that doesn't want a totally visceral R-rated horror experience."
The visual style of Jurassic World: Aftermath uses vibrant cel-shaded graphics to ease fans of the series who are desperate to jump into the adventure but don't want an extremely terrifying experience. This is where Jurassic World: Aftermath differs from Alien: Isolation, another game based on a beloved horror franchise popularized in the 80s and 90s. Both games have the players explore an abandoned facility hiding from the famous monsters of their franchise (Xenomorph in Alien and Dinosaurs in Jurassic World) all the while completely defenseless.
Jurassic World: Aftermath comes after a rekindled interest in the series was sparked by the Jurassic World (6th most successful film of all time) and Jurassic World: Fallen Kingdom movies starring Chris Pratt and Bryce Dallas Howard. The third film in the trilogy, Jurassic World: Dominion, is slated for release next year and set to feature the return of original cast members Sam Neill and Laura Dern.
Jurassic World Aftermath | Launch Trailer | Oculus Quest Platform
Jurassic World: Aftermath is out now on Oculus Quest and Oculus Quest 2.