EA Motive Shows First Look at New Space-Combat Game Star Wars: Squadrons
Following the heels of the successful take of Respawn Entertainment's Star Wars: The Fallen Order, EA Motive has given the first look at their new first-person space-combat game, Star Wars: Squadrons. The game is set to have a full single-player campaign as well as multiplayer modes. The biggest feature of the game is including crossplay across platforms, Motive have stated they would including cross-play between VR and non-VR players.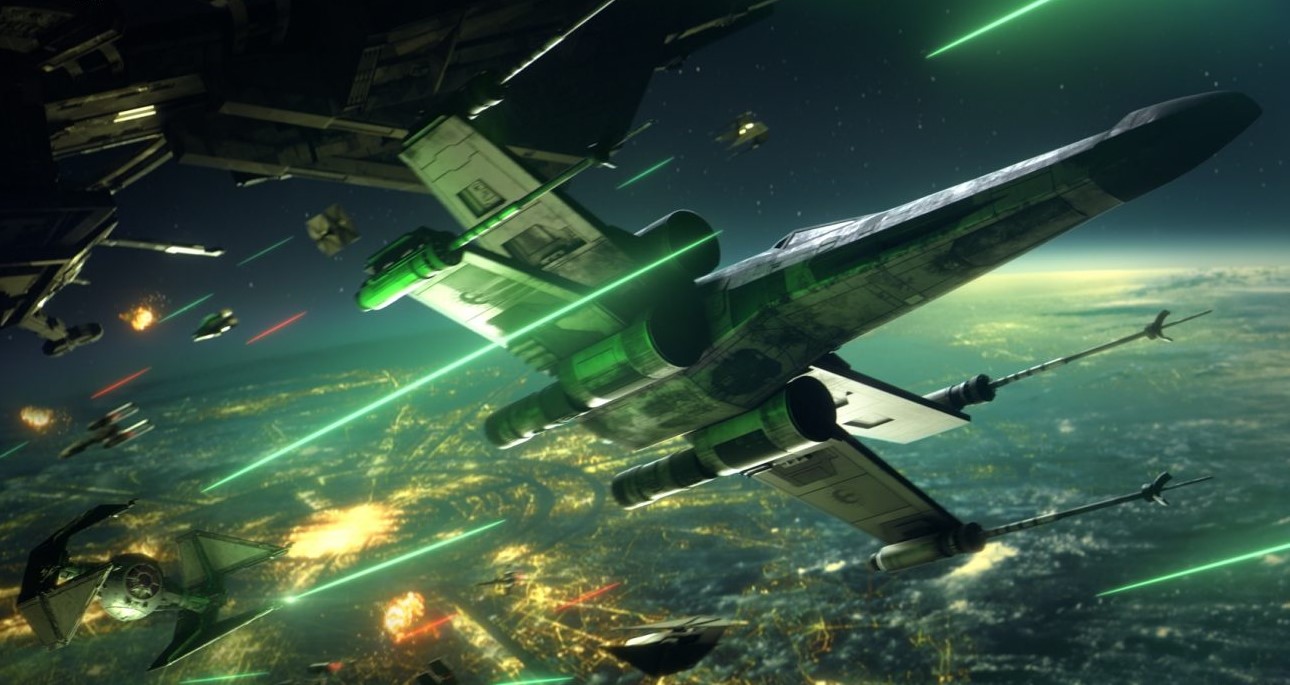 The single-player campaign is going to have players on both sides of the conflict, playing both Republic and the Empire pilots throughout the course of the campaign.  Regarding where in the Star Wars Saga this game will be taking place, it is set to take place between Star Wars: Return of The Jedi and Star Wars: The Force Awakens. The studio has promised fans that they will interact with familiar characters from the franchise.
Squadrons will include two multiplayer modes that have been announced so far: Dogfight and Fleet Battle. Dogfight is the traditional Team Deathmatch Mode where players fight 5v5 choosing either to play Republic or Empire. Fleet Battles, which the studio dubs the game's "signature mode," is an objective-based gametype that starts with a dogfight scenario. The victor takes the offensive in the next stage. The winner of the dogfight stage advances and then need to take down two medium-sized capital ships. If they win that stage, the final objective is to take down the opposing team's massive flagship.
At the time of writing, Motive have announced six locations from across the Star Wars Universe for the game:
Yavin Prime, the base planet near the rebellion base on Yavin 4, a gas-giant planet that hosts a large Republic presence.
Esseles, Imperial planet with an icy ring that's home to a listening post the Empire uses to spy on the Republic.
Nadiri Dockyards, a starship manufacturing facility the Republic defends at all costs from Empire attacks.
Sissubo, this planet is surrounded by the destroyed remnants of salvaged Imperial ships, parts of Project Starhawk, and is very risky to fly through from all the debris.
Galitan, a remote moon that was pulled apart into molten fragments floating throughout open space.
Zavian Abyss, a hazardous space region filled with electrically-charged asteroids from a surrounding maelstrom.
During an interview with Polygon, Creative Director Ian Frazier, wanted to make it clear that the game would not be a VR port but would be built from the ground up with VR in mind."We started the game, and we had the initial prototype up and running very quickly," Frazier said. "Much faster than normal. We were very pleased with that. We got it running in a week. And we had it running in VR by the end of the second week. So this game is like, really, really, really, from the ground up, both 2D and VR. And why? I mean, you kind of hit the nail on the head there. From a business standpoint, talking about how do we 'optimize the amount of money this game is gonna make,' VR doesn't make sense. It's a much smaller audience than the broader market. But why are we doing it? It's because we think it's cool."
Star Wars: Squadrons will be released on October 2nd, 2020 for the PC, Xbox One, and PS4 as well as have VR Support for the Oculus Rift, HTC Vive, Valve Index, and PSVR.
Valorant: Rewards, Competitive and Valorant Ranked Mode
Valorant Ranked Mode contains patents. The largest with three subdivisions each, ranging from Iron to Radiant. A similar way to the links in League of Legends. According to Riot Games' tactical FPS performance, it is possible to obtain rewards according to rankings. The competitive mode has the same idea of matches without classification, but with the use of a Matchmaking Rating (MMR) system.
Riot does not provide the score obtained or lost for each match. There is a system based on the performances of the game's players, which can evolve and regress from rank or subdivision. This oscillation occurs based on performances, individual or collective, within competitive games.
There is even the possibility of regression of classification depending on a losing streak. This happens on most occasions, with poor individual presentations. Check out the guide involving everything about how Valorant ranks work:
Valorant Ranked Mode, rewards and deadlines
From the standpoint of rankings, there are eight divisions in all. In order from smallest to largest, they are: Iron, Bronze, Silver, Gold, Platinum, Diamond, Immortal and Radiant. With the exception of Radiante, all others have three subdivisions. They can be progressed according to the competitive performance of the player.
Regarding rank progression, each user will be able to monitor the progress of their ranking at each Valorant Act. These acts will last for two months. During this period, it will be possible to obtain rewards. These rewards have not yet been revealed and should follow the same line of League of Legends. They are usually released at a time near the end of each season.
Therefore, it seems that the prizes will be according to the ranking obtained in that final period. As an example, if a player arrives at Radiante and ends the season in Diamante III, it is the last classification that will be taken into account to reward and take into consideration in the future.
How it works?
Overall, Valorant ranks follow the same logic as normal matches. With the maximum limit of 25 rounds and the victory of the team that reaches 13th point first. To qualify them, you must complete 20 games in the No Classification mode and, after five ranked matches played, your classification will be made available among eight ranks with three subdivisions each, except for the Radiant which, in addition to being unique, cannot be achieved soon right away.
From now on it is possible to form teams with friends during ranked matches. Even if, given the proportions, there is a big difference between skill levels, it will still be possible.
For example, if you are a user classified as Diamond, Immortal or Radiant, and you want to play with a friend who is starting the game, managing Competitive Mode will not allow them to join the queue together, in order to protect competitive integrity and the experience of other players.
In fact, the player's ranking does not regress with time, but is hidden if he does not play competitively for the period of 14 days. On the other hand, the rank will be displayed again after completing a competitive match. Something similar to what happens in CS: GO, for example.
MMR and scoring system
There is a Matchmaking Rating (MMR) system, or Match Manager Score, as used in League of Legends to define the ranking of your players. In this case, the mechanism does not provide a visible value and raises many doubts about its operation.
By the way, winning matches is the most important factor among all the available coefficients to move up in rank or ranking. On the other hand, if the player has an excellent performance in the respective game, he can rise even faster. Likewise, losing matches and showing poor performance, when compared to previous results, can also result in lowering your rank.
The individual presentation of the player, in each match, will have a great impact on the initial assessment of his abilities. It will start to import less and less as it evolves. That is, Competitive Mode will also calculate your dedication to matches. Specifically in the Radiant rank, winning wins and dedicating to matches will be the only factors calculated.
Fortnite: Summer Splash and Fortnite Patch 13.20
Available on Tuesday (30) by Epic Games, Fortnite Patch 13.20 includes new items and several bug fixes. Among the main highlights are the arrival of the Flag. Item that has been required by the Battle Royale community since Season 9 of Chapter 1. In addition, the Portable Upgrade Bench. The update is already on the public servers of PC, Xbox One, PS4, Nintendo Switch and mobile devices.
Also, this Tuesday (30th), the start of the Summer Splash event in Fortnite was announced. It will be available until the end of Season 3 and has several new features. It celebrates summer in the Northern Hemisphere and will rotate and launch Limited Time Modes (MTLs). In addition, it promotes the appearance of both known and new skins, with the theme of sand, sports and food.
Fortnite Patch 13.20
The main changes in this Update were the Flag and Portable Improvement Bench. Specifically in the case of the Beacon, the item arrives as a new way to destroy buildings. Since it follows the line of the newly added Glass of Fireflies and can set fire to wooden fortifications. In addition, the weapon has a cartridge of six bullets, which cause about 60 damage to opponents in the event of an individual and direct hit. In addition to having 1.5 seconds of cooldown to explode.
The Portable Improvement Banking, in turn, improves items, which is not a novelty. It can be found at different points around the map. In fact, to obtain the item, simply destroy it normally with the collection tool to be made available in the inventory, with the options of fixing it in any other location.
Although it has not been officially released by Epic Games, there are reports of some users of the game who notice the decrease in water level and the revelation of new locations after the introduction of the update. It is worth remembering that the publisher confirmed that water levels will decrease as the season progresses.
The Water is starting to drain in some areas. #Fortnite pic.twitter.com/aNmwX8HriM

— #Scream5 is happening! (@Iron_Wolf_Net) June 30, 2020
Check below all the issues resolved in this update by Epic Games.
General Problems
Styles for Specialist Pick and Arroio Backpack do not appear;
Travi $ gesture fire remains on or near the player;
Gesture music plays louder than main stage music at the Festa Royale;
Hairstorm Sandstorm Costume.
Battle Royale
Falling damage when landing in shallow water;
Epic and Legendary SMGs cannot always be exchanged;
Damage to Looters can contribute to the Storm Outbreak;
Healing Heals does not recover life if thrown into a bush;
Supply delivery can push items down the map.
Save the world
Storm King area attacks cover the map with a pink texture;
Softlock/Loss of UI functionality when opening a Llama in the Llama Store;
Mortar projectiles can damage players or targets near a wall.
Mobile
Switch between construction and combat modes while holding the shoot button.
Summer Splash Event
Throughout the extension of "Summer Splash", players will be able to enjoy the rotation of classic MTLs. Like Fog of War, Immediate Encounters, Straight from the Vault, Pega, among others. In addition, in addition to these modes having special features in the future, there will also be new ones in a future update, including a new approach to "Operation: Knockout!", Which will involve improvement with each elimination of opponents.
Likewise, the event will include new costumes, such as Peer Patrol, Soft Bite, Gentle Bite, Starlight and more. In return, it will promote the return of skins already known to the community. The Timeless Summer and the Beach Bombardier.
As part of "Summer Splash", Fortnite has received some items so far. MTL Tiro Certeiro and the arrival, at the item store, of the Demonic Beach and Space Fire cosmetic sets. In this case, the news tend to be disseminated daily or weekly. As well as the thematic missions of the event, which are expected to arrive in the game soon.
New Games on Steam: Last Moon in June
New Games on Steam is a weekly installment on the latest and greatest Indie games.  Today, we dive in to solve murder in VR, explore mysterious castle, fix a spaceship that would put Elon Musk to shame, and save our love from the realm of shadows. There's no time to waste!
ArchiTac
Let's start with something cute. In ArchiTac, you will play as an astronaut who got marooned on a deserted planet. It's your job to explore your surroundings and collect resources to fix your ship and flee this godforsaken place. Expect to do a lot of building to reach various floating islands and their inhabitants, who are not too eager to see you.
Gatewalkers
For this week's dose of RPG madness, we have Gatewalkers. This is a co-op survival game set in a procedurally generated world filled with deadly enemies and inhospitable conditions. Although Gatewalkers is still in Alpha, there are a lot of things to explore, which adds to replayability. As expected, you can choose to play as archer, mage, and warrior, or go create your own unique playstyle. So far, this looks like an interesting mix of Runescape and Tibia, and I wonder where it might go next.
The Rig: A Starmap to Murder
The Rig is a rare breed of noir space adventure made for VR. The game is heavily story-driven and will task you with solving a murder on a massive spaceship and finding your brother. The Rig is very atmospheric and immersive, although the puzzles are relatively easy. All in all, this is a good game for a casual evening, as it will take you around an hour to solve its mysteries.
Eternal Hope: Prologue
Eternal Hope is a vivid adventure of a boy named Ti'bi who embarks on an adventure to save his love. To do this, you will need to master multi-dimensional travel, defeat enemies, and solve various puzzles. Eternal Hope is reminiscent of Limbo, and features equally intriguing world, although more vibrant. This is only the first installation of a story and it's completely free to play.
Little Witch Nobeta
Little Witch Nobeta will satisfy both anime and Dark Souls enthusiasts. As Nobeta, you will explore the grounds of an ancient castle and use your magic to defeat challenging enemies. You can choose between Ice, Fire, Arcane, and Thunder spells, or, if you are loco, go full melee. Although, the game will punish you all the time as you search for weaknesses, yet it rarely seems unfair. Ultimately, Little Witch Nobeta is already well-polished as an early-access game and offers tons of content at a reasonable price.
These games are not your cup of tea? Don't fret. Check our last batch of New Games on Steam here, and find something that works out for you.