Capcom Data Leak Hints to Resident Evil 4 Allegedly Coming to VR
A recent ransomware attack on Capcom had new reports stating that Resident Evil 4 may be released on VR in 2021. The attack was perpetrated by a group of hackers called Ragnar Locker who manage to hack into Capcom's internal systems. The hackers demanded approximately $11 million in bitcoin. After Capcom's refusal to pay the ransom, 1 Tb of the alleged hacked data was released to 4chan.
In the leaked documents, it mentioned that Resident Evil 4 VR was in development as an Oculus exclusive. A chart of their release windows showed the Resident Evil 4 VR was slated to be released in April 2021. As of the time of writing, Capcom has not verified the authenticity of the leaked data so this rumor should be taken with a pinch of salt.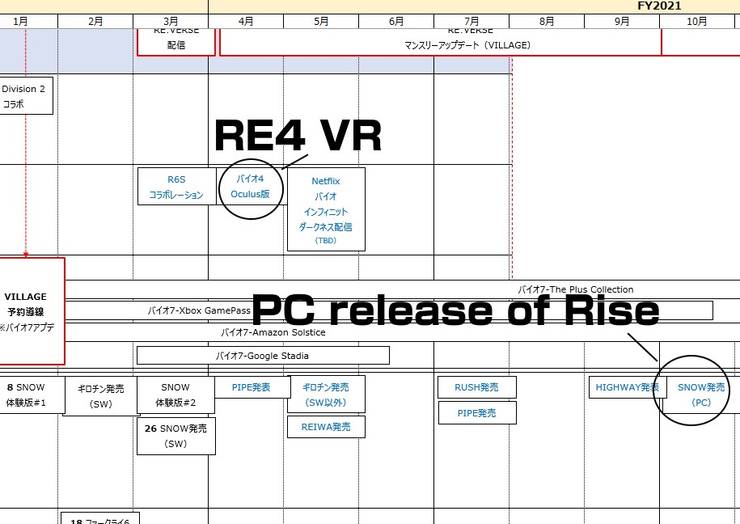 Resident Evil 4 was considered to be a critical success and fan favorite of the entire franchise. With the release of the Resident Evil 2 Remake in 2019 and Resident Evil 3 Remake earlier this year, a possible remake for Resident Evil 4 was always on the horizon. Though at the moment, the only VR compatible version of a Resident Evil game was Resident Evil 7: Biohazard that was a PSVR exclusive.
As reported by PC Gamer, the leaks also gave some more insight into information about the upcoming Resident Evil: Village. According to the leak, the game's release is also expected to be in April 2021. Like Resident Evil 3 Remake, Village might be launching with a separate online element that is codenamed Dominion. There was also the tentative release date for the Netflix series, Resident Evil: Infinite Darkness, which is allegedly May 2021.
Capcom released a statement about the incident in a press release saying,  "it has been the victim of a customized ransomware attack following unauthorized access to its network and has verified that some personal information maintained by the Capcom Group has been compromised."
What was found in the Capcom leak:
* DMC2 source code
* Umbrella chronicles source code
* Resident Evil 4 VR
* Ace Attorney collection for PS4(?) and Switch
* Monster Hunter Rise PC
* Details about more upcoming titles

— /PPG/ (@pokeprotos) November 16, 2020
Capcom also mentioned that its customer data was breached but ensured that their credit card information was not compromised. According to the press release, Capcom doesn't expect major damage to come from the leak, "Presently, while the company believes that any effect from this incident on the Capcom Group's consolidated business results (for the fiscal year ending March 31, 2021) will be negligible, the company will swiftly announce in the case that any further disclosure is necessary."