Black Ops Cold War: Tips for Mastering the Game
Call of Duty: Black Ops Cold War hit the market bringing a lot of news to fans of the popular Activision franchise. It is always important to know what to do to play well and stand out mainly in multiplayer. With the Cold War as a historical period in the background, the game has a Story Mode that is a direct sequence of Call of Duty: Black Ops. The flagship of the series, however, remains Multiplayer Mode, which, in Cold War, comes with different maps and modes. In addition to being accompanied by the popular Zombie Mode and a progression system that still includes Call of Duty: Warzone.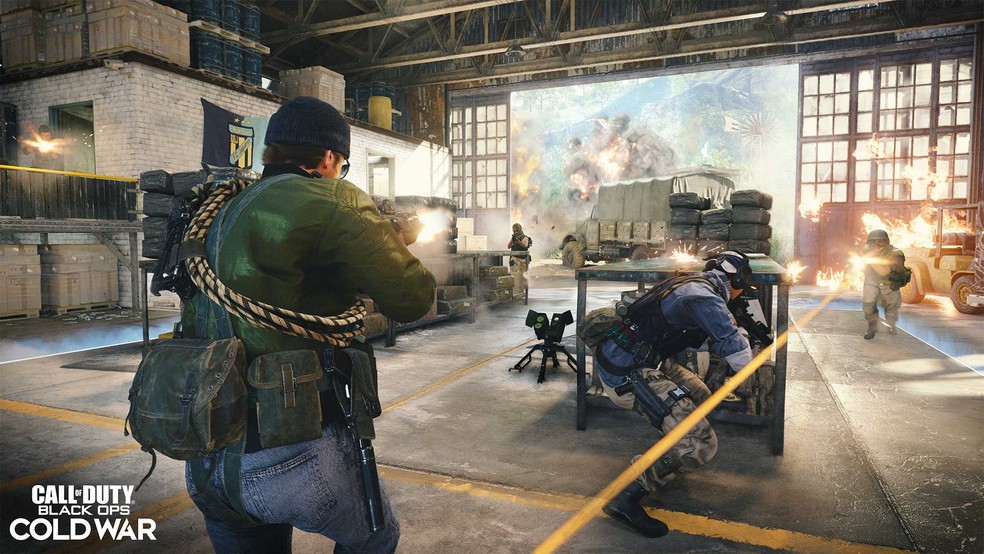 Developed by Treyarch in partnership with Raven Software, Multiplayer Mode features maps in locations such as Moscow, Angola and Miami, and modes that include up to 40 players, divided into 10 teams of four, or mix infantry and various vehicles such as tanks, snow, helicopters and speedboats.
Check out a guide to get better at Multiplayer and Zombie modes and play the newly released Activision game well:
Choose The Best Mode For You
Call of Duty: Black Ops Cold War offers fans four game modes. They can be accessed through the menu of the new game in the Activision series. They are: Campaign Mode, the traditional Multiplayer Mode, the popular Zombie Mode and the free-to-play Battle Royale option of the series, Call of Duty: Warzone.
In Zombie Mode, the cooperative experience will place the user with up to three other Operators as agents for Requiem. An international response team supported by the CIA tasked with investigating and suppressing supernatural anomalies around the world. While facing legions of undead, players will also come face to face with rival group Omega. An organization led by the Soviets that seeks to research and control these anomalies.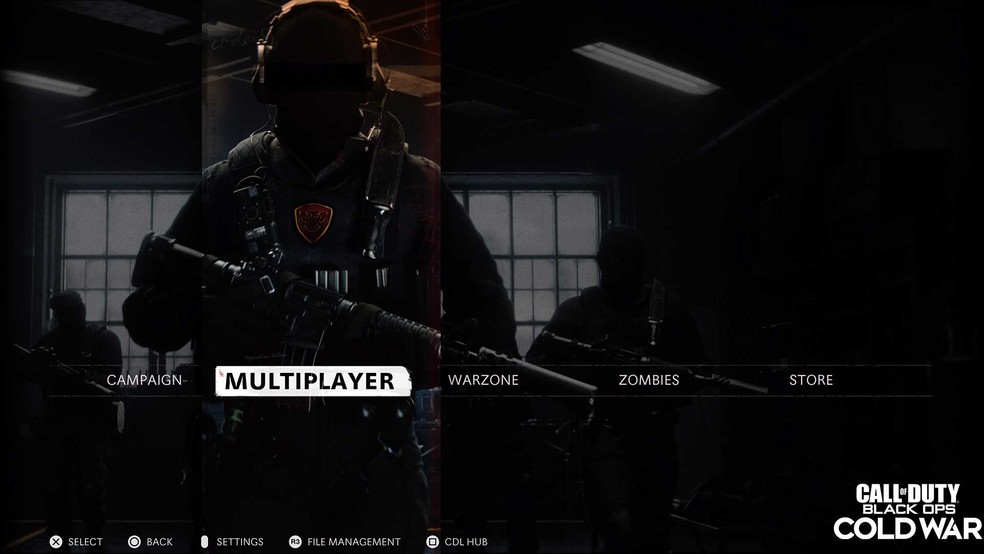 As Zombies is based on cooperative gameplay, team action is important to Requiem. So get your friends together and communicate a lot with your team. Using the new Ping system to ensure that everyone can survive the most intense attacks from the undead.
Vary in Multiplayer Mode
The multiplayer experience of Call of Duty: Black Ops Cold War offers a variety of competitive modes, customizable loadouts and a revamped progression system. Players will be able to accumulate eliminations and achieve goals to earn Scorestreaks. These are powerful rewards that range from armaments to aerial vehicles. They will also be able to choose to play more traditional and popular multiplayer modes. Like Team Deathmatch, Domination, Free-For-All, or some new game options, like VIP Escort and Combined Arms.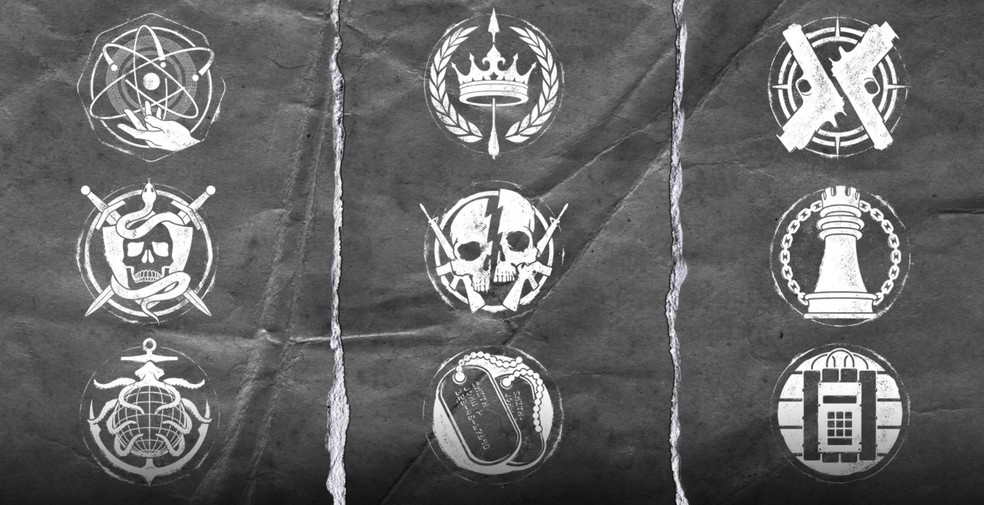 Along with changing game modes, try to constantly rotate your weaponry to meet specific challenges and remain unpredictable against enemies who act around one or two weapons. Not all weapons are perfect for all types of combat.
Available modes in Black Ops Cold War are Fireteam: Dirty Bomb, Combined Arms: Assault, Combined Arms: Domination, VIP Escort, Team Deathmatch, Kill Confirmed, Free-for-All, Domination, Hardpoint, Control, Search & Destroy and Hardcore.
Progression sSystem
Black Ops Cold War arrives with an updated player progression system. Players will start by completing Military Rankings. A traditional leveling journey to unlock functional game items, going from level 1 to level 55. After completing this phase, Black Ops Cold War players will enter a Season Leveling, which starts at the launch of the game with Pre- season and that is synchronized with all three games (Warzone and Warfare) at the beginning of the First Season on December 10th.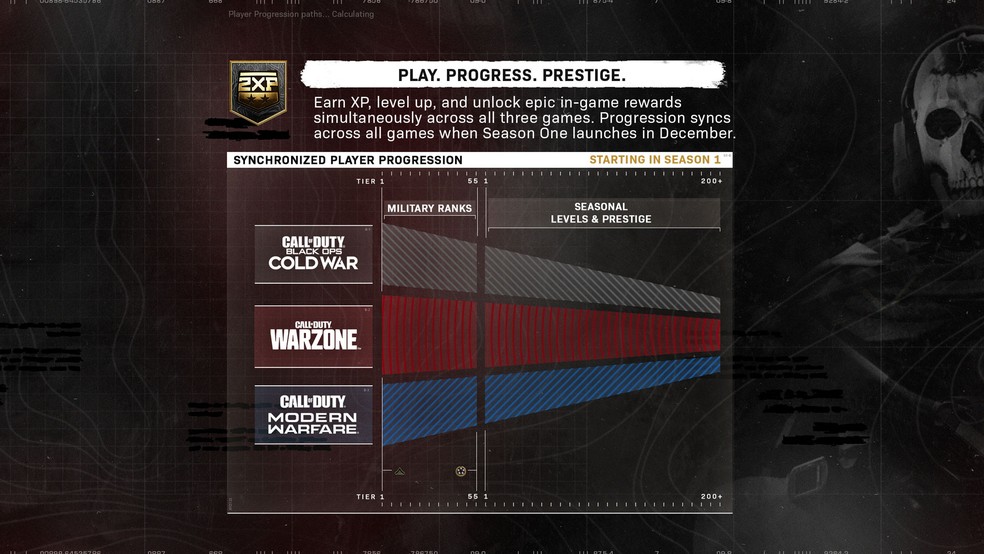 Season Levels incorporate a Season Prestige leveling system. With the first Prestige level being reached after military rankings are completed at level 55. The player will be able to achieve three Prestige scales (levels 1, 50 and 100) by the start of the First Season. When your levels reset and four additional Prestige will be offered to reach the first 200 levels of the season. This situation will be repeated at the beginning of all seasons.
Zombie Mode from Black Ops Cold War will also share that same progression. It is possible to level up regardless of the form chosen to play. Thus, passing the level in Multiplayer guarantees several items in Zombies and all weapons and experience are kept between modes. The more you play in any mode, the more weapons and skills you have to reach the most advanced levels.
First Season
The first season of Black Ops Cold War arrives on December 10. New content, however, will already be available before the start of Season One. With the arrival, on November 24th, of the Nuketown 84 map. Be ready for the arrival of Season 1 by leveling up, reaching Prestige and unlocking all items that you can.
Create a Class
Through Create a Class, it will be possible to customize the loadout, a selection of weapons, equipment, field upgrades (Field Upgrade), perks and wildcards (Wildcard) that help operators in combat.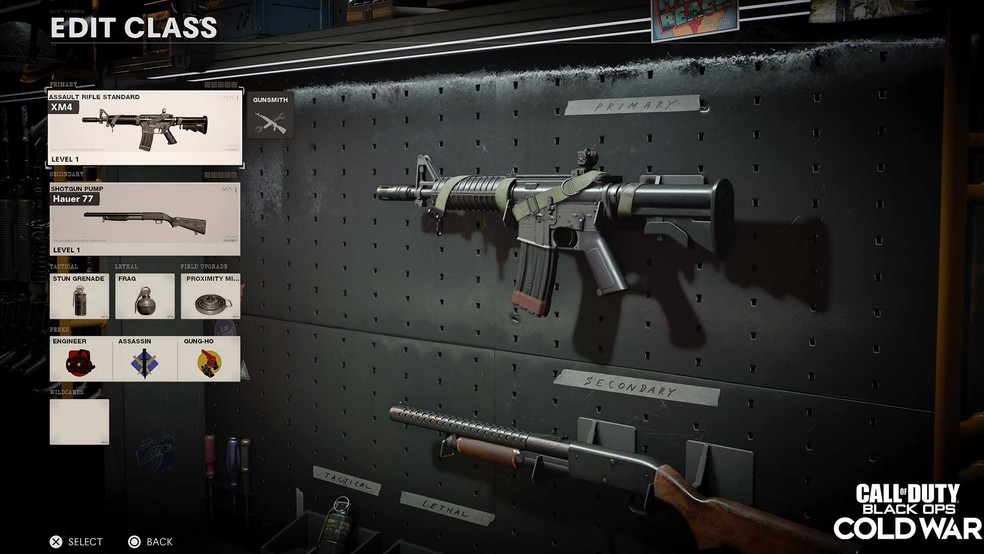 A custom loadout consists of the following items:
Primary Weapon
Secondary Weapon
Tactical Equipment
Lethal Equipment
Field Update
Perks
Wildcard
Scorestreaks
Upon reaching Rank 4, five customizable loadout slots will be available for the user to configure according to preference. When a complete list of 10 different loads to configure as you wish will be available. Taking the time to build all 10 custom loadout slots will make the player better prepared for a variety of countless combat scenarios in Multiplayer.
Be Patient
As part of the Black Ops series, Cold War brings a different gameplay rhythm than Warzone and Modern Warfare. For example, making the player take longer to kill opponents. This means that the opponents' life bar appears a little longer in Cold War. The game's learning curve is also higher. Favoring less immediate players, who were more likely to shine in Modern Warfare.
Listen and Look Well
With incredible sound effects, Black Ops Cold War helps you take advantage of important signals for gameplay, such as long-range shots or explosions, or footsteps from enemies that sneak up on you.
Some of the Call of Duty: Black Ops Cold War maps are wide open, favoring the positioning of snipers, such as the Satelitte, Miami and Armada scenarios. So be on the lookout for visual cues that expose the position of long-distance shooters, such as bright sparkles that pop through these environments.